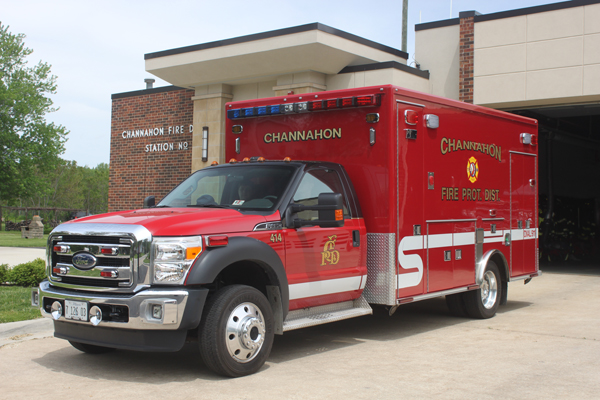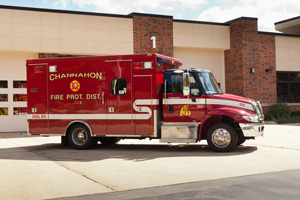 The Channahon Fire Protection District provides Emergency Medical Services 24 hours a day, 7 days a week. The CFPD provides Advanced Life Support under the guidance of the Will/Grundy EMS System at Silver Cross Hospital.
CFPD EMS responds to emergencies with a fleet of 3 ALS Ambulances loaded with state of the art, top of the line equipment. We also staff an ALS Engine that responds to emergencies. This year the CFPD has put a Kubota Off/Road vehicle into service that is a first-responder non-transport vehicle designed for the many miles of the I&M Canal Towpath that the CFPD protects.
CFPD EMS is staffed 24/7 by licensed Paramedics. Every day there is a minimum of 6 Paramedics on shift responding from two fire stations. Station 1 handles calls west of I-55 and Station 2 handles calls east of I-55.
The CFPD responded to over 1,000 calls in 2007, of which approximately 80% were of a medical nature. The CFPD Paramedics are also certified as Firefighters in the state of Illinois, which allows for versatility on the scene of an emergency.
Our apparatus are stocked with some of today's most advanced technology. Over the last 5 years, the district has implemented the use of 12-Lead ECG monitoring to assure the highest level of care for our cardiac patients. In addition, we have placed the Zoll Autopulse into service, which performs compressions in the event of cardiopulmonary arrest. We provide CPAP, or continuous positive airway pressure, to patients with respiratory distress, which decreases the need for endotracheal intubations in the field. This in turn provides for a quicker recovery time for our patients. This year we have eliminated the need for providers to "lift" patients into the ambulance, thereby reducing the discomfort of our patients and reducing injuries to our providers.