In Memory of Ken Frayne

"Kenneth J. Frayne was a very loving husband, son, brother and uncle.
Never have I met someone who was as thoughtful and kind as he was. Ken was the oldest of four boys. When Ken was young, he became very interested in construction and soon after learning about it, started his own business. His business grew to become very successful. Ken also enjoyed hunting. He often hunted deer and even went boar and bear hunting a couple of times.
Ken and I were married in 1998 after dating for a year and a half. We built a house where we lived for three years and Ken became a firefighter in our community. He loved being a firefighter and getting to know everyone in our community. He was very outgoing and had many friends.
We were married for a little over three years at the time of his death on October 13, 2001. I just want everyone to know what a wonderful person he was. He was my best friend and I miss him dearly. Not a day goes by that I don't think of him. He was raised with all the qualities you look for in a mate. He was very loving, affectionate, honest, kind, and would help anyone who needed it. He has a great attitude about life and lived it to the fullest everyday. Heaven gained a great soul when they took him. I only wish they'd have waited a little longer before they did. Ken died at only 28 years, but, in retrospect, those 28 years were filled with lots of love, friendship and a great ambition. He wanted to be the best he could be, which in all areas of his life, was achieved. He was the best husband, son, brother and uncle. I miss him dearly.
May God bless and keep him."
-Deborah Frayne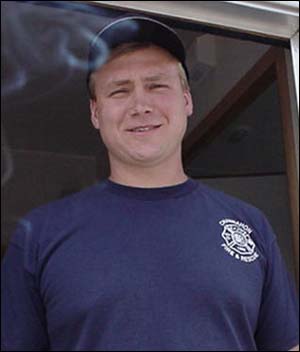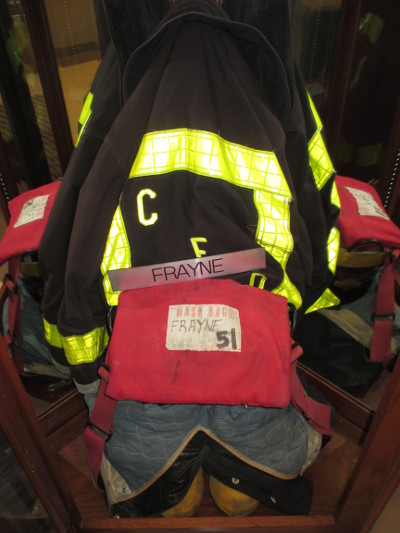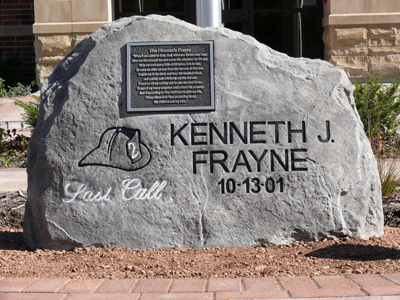 Incident Summary
On October 13, 2001, Firefighter Kenneth James Frayne of the Channahon Fire Protection District died in the line of duty during a dive rescue training exercise. Frayne and eight other firefighters, representing four fire departments, took part in the training exercise, which was held at a private lake in Coal City.
The dive rescue training exercise involved a fourteen-foot boat and two mannequins that had been sunk to the bottom of the fifty-foot lake. The training exercise consisted of two separate dives, with a debriefing in between dives. Frayne was an active participant in both dives, but he failed to surface at the end of the second dive. The other divers immediately began searching for Frayne, and they were joined by additional dive rescue teams who responded to the scene after Frayne was reported missing. Frayne was found at the bottom of the lake approximately 75 minutes after he had last been seen. Efforts to revive him at the scene were unsuccessful, and he was transported to Morris Hospital, where he was pronounced dead.
Funeral services were held at Channahon United Methodist Church on October 17, and Frayne was interred the next day at Willard Grove Cemetery in Channahon. Frayne had joined the Channahon Fire Protection District as a volunteer firefighter on June 8, 1998. In addition to his firefighting duties, he was also a member of the dive and specialized rescue teams. Frayne lived in Channahon for four years, where he owned and operated Frayne's Construction, Inc.